Art restaurant puts a new spin on 'light' dining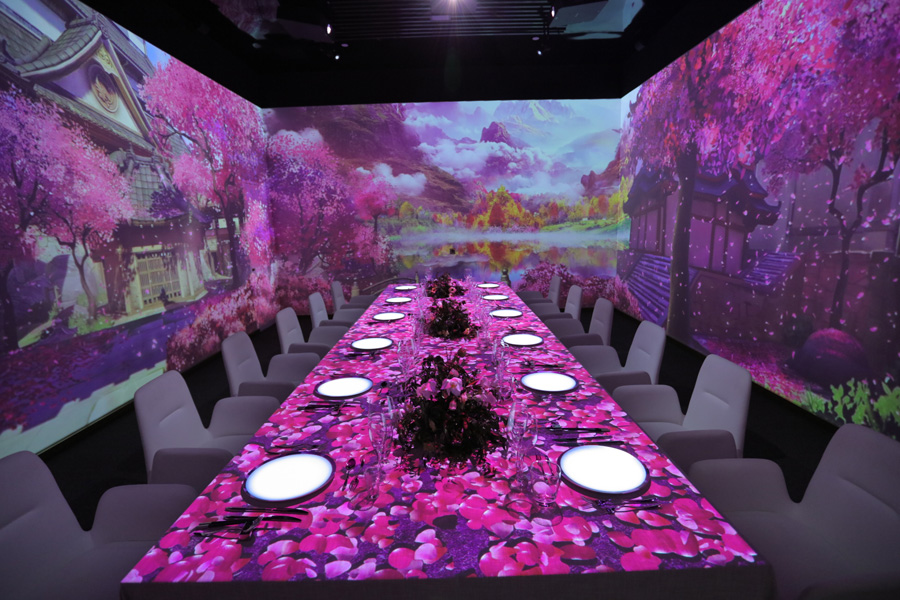 Walking in, you feel like you're entering a world of sakura-on the walls that surround the dining area sakura trees sway in front of Japanese style houses on either side of the table and line the shores of lakes and the sides of mountains at the front of the room. The table itself is even covered in fluttering sakura petals.
Before the dishes are served, the waiter reminds diners to remain seated. This is because the restaurant plays with the light and imagery in such a way that the floor seemingly rises to change the view, which some may find it a little dizzying if they are standing up. For the whole meal, diners are immersed in an environment created by light and shadow-this is a typically inventive mealtime at Yu Restaurant in Beijing.
Opened in March, the whole restaurant is decorated with different kinds of imagery and light, some of which can be controlled by the diners by using motion or sound.
Zhang Siyang, co-founder of the restaurant, says the partners of the restaurant come from different creative fields-directorial and artistic-and they aim to bring stage techniques and resources to the restaurant to create a new kind of dining experience.