Unexpected turn in murder trial
By ZHANG RUINAN/KONG WENZHENG | China Daily | Updated: 2019-06-17 07:39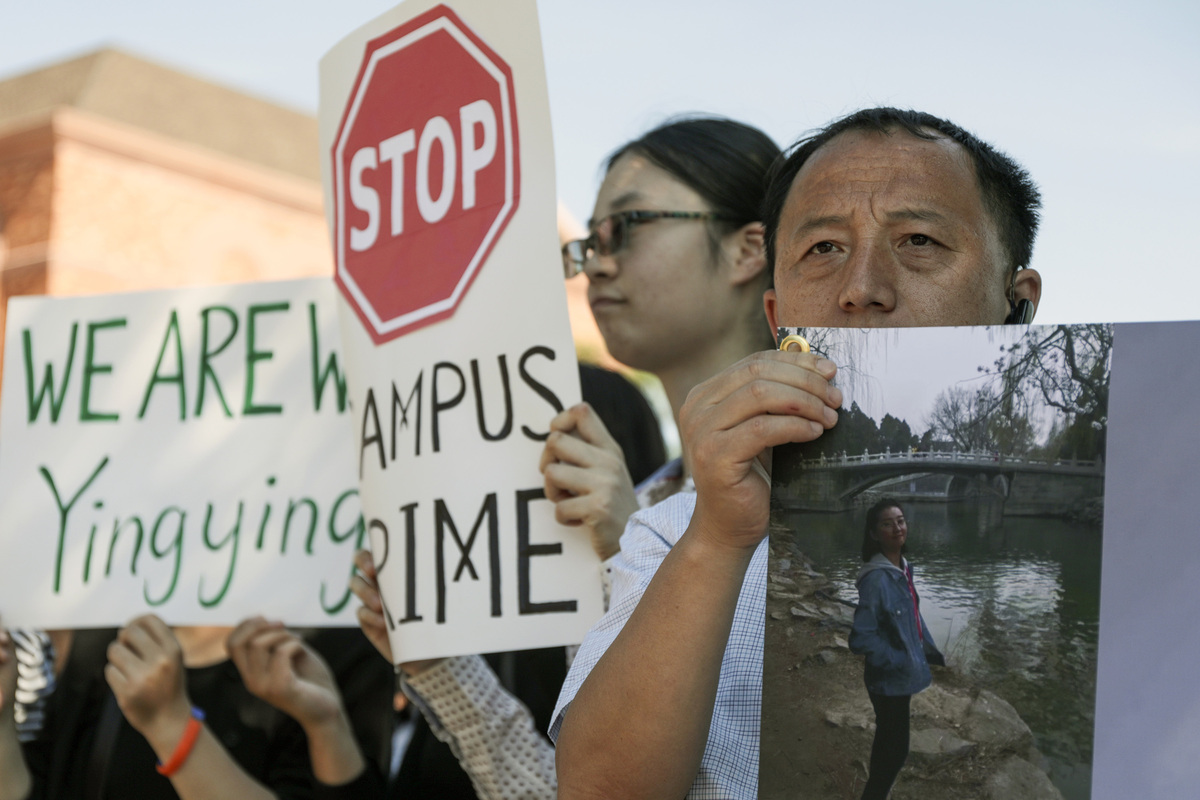 Defense admits client's responsibility, but enters plea of not guilty
Every June for the past two years, memorial events have been held on the campus of the University of Illinois at Urbana-Champaign. Students and community members gathered to show their compassion and, for some, their hope that Zhang Yingying would somehow still be alive.
Last fall, the school dedicated a memorial garden to Zhang near the spot where she went missing on June 9, 2017, just two months after she arrived in the United States from China. A stone was placed there, engraved with Zhang's name in both English and Chinese.
For nearly two years, defense lawyers have been preparing their case for Brendt Christensen, a former University of Illinois doctoral student who is charged with kidnapping, torturing and killing the 26-year-old scholar from China.
On Wednesday, in the federal courtroom of the central Illinois city of Peoria, a 90-minute drive from the campus, in front of Zhang's family members, friends, reporters-and 12 jurors-it took defense attorney George Tesseff less than one minute to stun the courtroom by saying Christensen had indeed killed Zhang.
However, the defense entered a plea of not guilty.
The surprise admission was part of the defense attorney's strategy to focus on why his client's life should be spared when the trial resumes on Monday.
The prosecution presented its case first: Christensen abducted Zhang off campus and raped, stabbed, choked and beat her with a baseball bat before decapitating her at his Urbana apartment.
Admission of guilt
The start of the trial, Christensen's admission presented by his attorney and the gory details of how Zhang was killed have put the case back in the spotlight of massive media coverage both in the US and China. And it has had a ripple effect on overseas Chinese students and their families thousands of miles away.
Of the more than 1 million foreign students enrolled at universities in the US, 350,755, or about 35 percent are Chinese, according to the Open Doors study by the Institute of International Education, a nonprofit organization supported by the US government.
"I first heard about this case when I was still in China two years ago, at the time I accepted an admission offer from UI. I was so shocked, and I remember that many newly admitted students were talking about the case in our WeChat group at that time," said Kevin Zhao, a doctoral student at the Grainger College of Engineering at the University of Illinois.
"My parents were really worried when they heard a Chinese student had been kidnapped on campus, and they asked me to call them every day when I first got here."
Zhao said he has been closely following the case since he came to the US in August 2017.
"As a Chinese international student at UI, I hope they (the jury) can bring her (Zhang) and her family justice," he said. "I was very angry when I heard that the suspect tortured Yingying before he killed her-he deserves the death penalty."
Fran Tao had just graduated from UI when Zhang was first reported missing.
"I learned about the case from day one as the news started circulating on WeChat right away," she said. "All the details disclosed these days make me feel totally speechless. It's hard to verbally describe that sense of loss.
Tao added that the defense lawyers' admission of Christensen's responsibility was "at least a sign that he knew he could not get away with it".
The case has not only drawn attention from students at UI, but from Chinese students across the US.
"I heard about the case from the news," said Zhang Dian, a graduate student at Columbia University in New York. "I was very sad, but at the same time very shocked and angry."
For many Chinese students in the US, the case has prompted discussions about campus security.
In an interview in June 2017, just after Zhang Yingying was reported missing, Frank Ping, then president of the University of Illinois at Urbana-Champaign Chinese Students and Scholars Association, said he would further emphasize campus security issues during orientation for new students, and the organization was committed to raising safety awareness among students.
Surveillance cameras were installed around the UI campus, which helped police determine that Zhang Yingying got into Christensen's car, and led to his arrest. But investigators acknowledged in 2017 that the cameras were outdated and provided only foggy images, prolonging the search for Zhang Yingying.
School officials then pledged to purchase new security cameras to replace the older ones.
In addition to the overall campus safety issue, students are concerned about the challenges faced by international students, especially when they first arrive in a foreign environment.
"Many of our international students and scholars face unique safety challenges while they are here on campus," wrote the school's police department on its website.
Zhao, the doctoral student, said he thinks the case of Zhang Yingying serves as a very good wake-up call for many international students in the US about how to protect themselves, and how to use campus resources when they are in danger.
"If I were her (Zhang Yingying), I don't think I would jump into a stranger's car even if I was late for something," Zhao said. "But many international students just lack awareness of self-protection. I think after the case, many Chinese students started to pay attention to campus security information sessions and take down the campus police's number."
He added that some of his friends have started sharing their iPhone locations with family and friends.