Safety checks ordered by authorities after boy is killed by falling window
By YANG WANLI | China Daily | Updated: 2019-06-17 07:59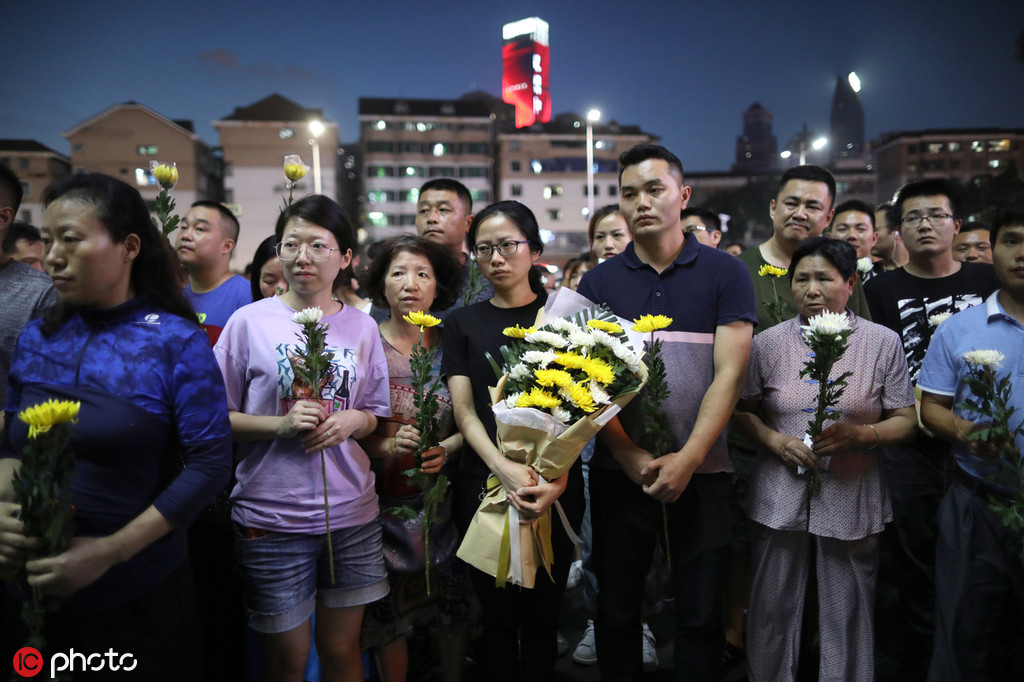 A 5-year-old boy died on Sunday morning, three days after being hit by a window that fell from a 20th floor apartment in Shenzhen, Guangdong province.
The case has forced authorities to order checks of window safety at apartment blocks after reports of similar incidents.
The boy, surnamed Zhuang, was on his way to a kindergarten with his mother on June 13 when he was struck on the head by the window.
People near the apartment block at the time of the accident reported hearing a loud bang.
Zhuang was taken to the nearby Shenzhen Traditional Chinese Medicine Hospital and later transferred to Shenzhen Children's Hospital.
According to his uncle, the boy's heart stopped beating at 1 am on Sunday and doctors announced his death after five hours of surgery.
The tragedy, which happened in Futian district, was recorded by a surveillance camera installed at a fruit shop in the area.
After investigating the incident, police said the window had fallen from the No 3 building by accident.
But it is not the first incident of a falling window in the community. A notice on the community's WeChat public account shows that a window fell from an eighth floor apartment on May 22, without hurting anyone.
The notice said the window had fallen because an air conditioner had been improperly fitted.
In the notice, the property management company asked residents to hire certified professionals to conduct such work. It also required the workers to register with the property management company and have proper training.
Officials from Futian district's housing and urban and rural construction planning bureau are investigating the accident. They have asked the property management company to report any risks by Monday, according to news website thePaper.cn.
The bureau also asked all property management companies to conduct safety checks for potential dangers in the district before the typhoon season.
Meanwhile, Zhuang's uncle has complained the community management company has only paid 3,000 yuan ($435) of the boy's hospital costs after earlier promising to pay the full amount. The total treatment bill was 75,000 yuan, he said.
According to China's Tort Liability Law, property users should be compensated for damages and loss due to objects falling from the building, if the infringer cannot be identified.
The community's property management company could not be reached for comment.