Twin Central Asian summit providing platform for cooperation
By Hujjatullah Zia | chinadaily.com.cn | Updated: 2019-06-17 08:22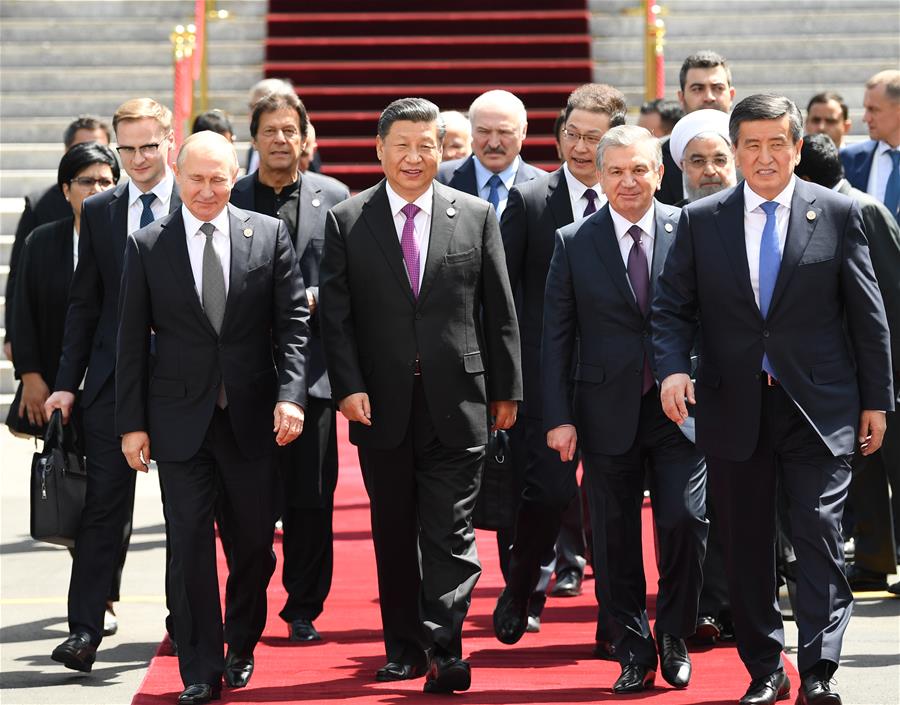 Chinese President Xi Jinping is visiting Kyrgyzstan and Tajikistan to participate in a Shanghai Cooperation Organization meeting and the Conference on Interaction and Confidence-Building Measures in Asia. Since China is a founding member of the two organizations, Xi's Central Asia trip will carry great significance for China and regional stakeholders.
At the ongoing SCO summit, two issues are taking prominence: Political confrontation on the one hand, and terrorism on the other. Mitigating regional instability and political confrontation, especially in the Middle East, and counteracting terrorist activities through promoting counter-terrorism intelligence exchanges and joint actions will be seriously discussed at the meeting.
With regard to April's Easter Sunday bombings in Sri Lanka and violence in Afghanistan, the heads of summit delegations will seek to step up their cooperation with observer states and dialogue partners in their fights against terrorism. It should be noted that the SCO signed a protocol with the Afghan government during last year's meeting in Qingdao to establish the Afghanistan Contact Group and support Afghanistan in combating terrorism and insurgency, but has yet to reach its desired result. Moreover, SCO members also need to reinforce their cooperation for anti-terrorism activities under the Tashkent-based Regional Anti-Terrorist Structure.
The summit began on Thursday in Bishkek and carries special significance in the wake of the global trade conflict, which makes international headlines. The summit provides a platform for SCO members, observers and dialogue partners to enhance multilateral cooperation and reinforce trade and investment among BRI member states and organizations. In short, it will expand the space for Eurasian collaboration so as to ward off a "not in my backyard" mindset.
Participants will reaffirm their commitment to strengthening practical interactions in multiple sectors. They will need to further reaffirm their resolute support for UN efforts to ensure international peace and security and resolve challenges and confrontation through peaceful means.
Tajikistan is hosting the fifth summit of CICA, in which the 17 Sustainable Development Goals of the UN 2030 Agenda for Sustainable Development will be a big topic at the talks, especially in roundtable discussions.
There are formidable challenges to sustainable development, and poverty is a chronic problem across the region. Abject poverty and unemployment are major concerns. With this in mind, CICA stakeholders will "resolve to free the human race from the tyranny of poverty and want and to heal and secure our planet," as stated in the preamble of the UN 2030 Agenda. They will "be determined to take bold and transformative steps urgently needed to shift the world onto a sustainable and resilient path."
Since China has lifted hundreds of millions of people out of poverty within the last 40 years during its period of reform and opening-up, its experience is highly significant to CICA participants and will contribute to regional poverty alleviation and sustainable development.
It has been said that freedom from fear and want and building a moderately prosperous society are the highest aspirations of the people. To achieve these goals, global and regional actors, SCO members and CICA participants have to advocate the "Shanghai Spirit" — mutual trust, mutual benefit, equality, consultation, respect for cultural diversity, and pursuit of common development — and seek common ground.
Hujjatullah Zia is an Afghan journalist and freelance writer.
The views don't necessarily represent those of China Daily.