China hires legendary Lindholm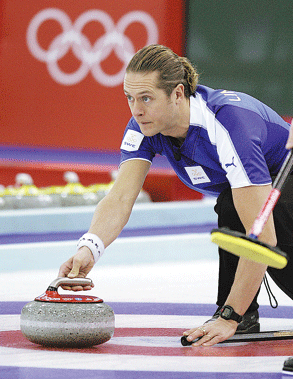 Curling great Peja Lindholm has become the latest foreign addition to China's push for glory at the Beijing 2022 Winter Olympics.
The 49-year-old Swede has been appointed head coach of the Chinese curling squad, and will officially take the reins in August.
"I'm so excited to be the head coach of the Chinese national curling team," Lindholm was quoted in a statement on the Chinese Curling Association (CCA) website on Saturday.
"The squad is young and energetic... I've been paying attention to the team at international competitions for a long time, and I'm familiar with the players.
"I believe with the support of the coaches, Team China can greatly improve and become a truly strong team on the international stage."
As a player, Lindholm won three world titles and a pair of European championships over a career that spanned two decades, however a medal eluded him in his three Olympic appearances (1998, 2002 and 2006).
After embarking on a coaching career in 2011, the silverware continued to rack up, with Lindholm steering Sweden to four world titles, one Olympic gold medal (Anna Hasselborg) and one silver (for Niklas Edin) at last year's Winter Games in Pyeongchang.
In total, Sweden amassed 31 medals during his reign, according to the CCA, before resigning as head coach in May.
"After nine years I decided to do new stuff. This means I will leave SWE curling as the national coach. So many memories I have together with the teams! Thanks to you all and best of luck in the future. I will NEVER forget this," Lindholm wrote on Twitter at the time.
Lindholm's appointment comes as China continues to invest heavily in hiring foreign coaches to help the nation close the gap to the world's ice and snow powerhouses in preparation for the 2022 Winter Olympics in Beijing.
The foreign influx has even been evident in sports in which China is traditionally strong, with Korean Kim Sun-tae taking charge of the Chinese short-track speed skating squad.
The Chinese men's and women's curling teams were only formed in 2002 and 2003 respectively, but have made rapid progress up the ranks.
The women's squad won the 2009 word title and bronze at the 2010 Olympics, while last month the men's team pulled off a shock with a runner-up finish at the Curling World Cup final in Beijing.
Despite such successes, however, officials are urging for greater efforts to be made as Beijing 2022 draws ever closer.
"Some highlights were achieved in the past season on ice and snow, but the overall performance wasn't satisfying enough compared to the progress expected to be made at this point to realize our high ambitions for 2022," said Gou Zhongwen, director of the General Administration of Sport of China.
"It's a pressing challenge where we don't have time on our side. We must stop feeling complacent about the small steps made so far, and we must mobilize all possible resources and try to adopt some unconventional methods to prepare our teams in the next three years."